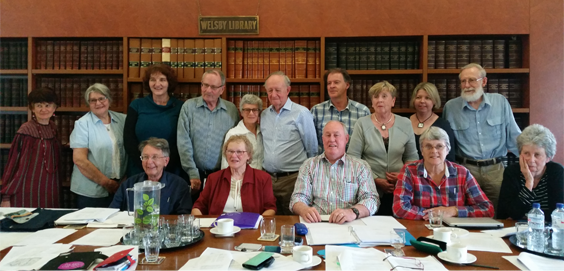 FAHS Delegates and staff from NT, SA, NSW, ACT, QLD, WA and Victoria met for the 2017 AGM at the Royal Historical Society of Queensland Headquarters.

L to R, Standing: Dr Bernadette Flynn (Outreach Officer, FAHS); Julia Ryan (CDHS); Maryanne Pender (RHSQ); Nick Drew (RWAHS, Hon. Treasurer, FAHS); Margaret Anderson (RHSV); Hon Bob Nicholson (RWAHS); Associate Professor Don Garden (RHSV, President, FAHS ); Esther Davies (CDHS, Vice President, FAHS); Amanda James (History Trust SA); John Davies (Executive Officer, FAHS); Seated: Associate Professor Ian Jack (RAHS, Vice President FAHS); Judith Dunn (RAHS); Colin Beard (HSNT); Dr Ruth Kerr (RHSQ, Immediate Past President, FAHS); Dr Helen Henderson (RWAHS, Hon Secretary FAHS). Caroline Homer (THRA), Elisabeth Jackson (RHSV) and Emerita Professor Kay Saunders (RHSQ) were unable to attend the meeting.

There was no election of office bearers at this AGM as it is done biennially. There have been no changes in office bearers since the election in 2016. Over the past 12 months, the following changes have occurred in representation: THRA: Cath Pearce resigned and has not yet been replaced. HSNT: Colin Beard has replaced Earl James. RHSV: Margaret Anderson has replaced Judith Smart and Elisabeth Jackson has replaced Richard Broome.

The FAHS AGM was held at the Commissariat Store Museum and Royal Historical Society of Queensland Headquarters on 21st October 2017 followed by the October Council Meeting.

At the conclusion of the meeting delegates were invited on a tour of the Commissariat Store Museum.
FAHS 2017 Fellowship Awards
Up to three FAHS Fellowships are awarded per annum in recognition of an outstanding contribution to the community history and heritage movement nationally and/or in more than one State or Territory. Honourees receive an appropriate certificate and are entitled to use the post-nominal letters FFAHS.

At its AGM the FAHS decided to offer Fellowship of the FAHS to the following people:

Emeritus Professor Graeme Davison, nomination of the Royal Historical Society of Victoria.

The award is in recognition of Professor Davison's significant contribution to the researching, writing, teaching and promotion of history in Australia.

Professor Marian Quartly, nomination of the Royal Historical Society of Victoria.

The award is in recognition of Professor Quartly's significant contribution to the researching, writing, teaching and promotion of history in Australia.

Dr Richard Reid, nomination of the Canberra & District Historical Society.

The award is in recognition of Dr Reid's significant contribution to the promotion and study of Australia's military history and of the Irish in Australia.
Up to five Merit Awards are awarded per annum to individuals. These awards take the form of a Certificate of Merit.

The Merit Awards are awarded as recognition of a meritorious contribution to the community history and heritage movement nationally and/or in more than one State or Territory and/or a contribution at State/Territory level which has had national implications.

At its AGM in October 2017, the FAHS decided to offer a Merit Award of the FAHS to the following people:

Father Brian Maher, nomination of the Canberra & District Historical Society

The award is in recognition of Father Maher's significant contribution to the promotion and study of history of the Irish in the ACT and NSW.



Peter Cox, nomination of the George Town & District Historical Society

The award is in recognition of Peter Cox's significant contribution to the study and promotion of early Australian colonial history, especially in Tasmania.
Writing and Publishing Local History: A Guide for First-time Authors and Historical Societies
Writing and Publishing Local History: A Guide for First-time Authors and Historical Societies
is written by Rosalie Triolo, Helen Doyle and Katya Johanson and produced by the Royal Historical Society of Victoria.*
You can
download free
or order your printed copy now from the
RHSV Bookshop
*The FAHS published an earlier edition of this guide in 2006, with the title Publishing History: A Guide for Historical Societies. A previous eBulletin (No. 170 17/10/17) incorrectly described the new guide as produced by the FAHS and the RHSV. It has been produced by the RHSV with collaborators as acknowledged in the introduction.

The guide provides essential advice from preliminary planning to final publication in an attractive and accessible guide.

Readers of this manual will follow a logical set of steps as well as complete activities that provoke thinking beyond conventional approaches to content and format. This guide will be valuable for any individuals and groups committed to preserving and sharing their historical knowledge and passion.
Featured Historical Society - New Farm & Districts Historical Society
New Farm & Districts Historical Society is a community-based organisation whose members are passionate about ensuring the rich and vibrant history of New Farm and nearby suburbs is not forgotten.


Gathering information from the past …… Preserving it for the future
In early 1994, Brisbane City Councillor, David Hinchliffe organised a walk around New Farm visiting some historical sites. The forty people who gathered, including Peter Beattie, MLA, and Alderman Beattie Dawson were invited to contribute to the knowledge of the sites visited on the walk. From these beginnings, the New Farm & Districts Historical Society was launched with a commitment to 'Research and Record the History of New Farm.'

One of the aims of NF&DHS is to build community connectivity. Society member Gerard Benjamin put forward the suggestion that 'every second person in Brisbane has a New Farm connection'. It is through an emerging interest in family history that many people who have lived in New Farm at some period in their life choose to maintain the connection to the area through membership. Members add to the archive with their oral and written history memories and photographs.

The Brisbane City Council has continued to be a strong supporter of the Society and provides a small office next to the New Farm Library. Information on the history of the area is kept in the archives in the office including written history memories, photos and local documentation. There is no space on site for exhibition and there are no plans in place to develop or run a museum. Instead the Society focuses on digital outreach.

Photographs and documents from the community are scanned and returned. Oral history recording including about 20 to 30 detailed interviews have been transcribed. Historical contributions generating discussion are a highlight of the website and uploaded to Facebook sites such as New Farm History, Fortitude Valley Revisited, and New Farm & Districts Historical Society. The Society is keen to digitise the archive and make this available to the public.

Membership is kept at a low $10 to encourage a wide range of participation and currently there are 130-160 members with about half of these members active in the society. The society runs a lively program of talks once a month at Merthyr Road Uniting Church Centre. Previous topics are on: Wharfie: Wal Stubbings, Militant wharfie in Brisbane, Under surveillance by ASIO; The Year of Disaster: Brisbane 1864 and People and events that have shaped Royal Brisbane and Women's Hospital. The events attract between 80-100 visitors. The Centre is ideal for a range of events with a courtyard and commercial kitchen available and a space that can be used as a theatre.

The NF&DHS is active at local community events, including at the Teneriffe Festival where they provide guided bus tours of Teneriffe. A newsletter is distributed ten times a year to a mailing list of more than 800 via MailChimp with 60-80 printed copies to letterboxes and online on the society website. The demographic of the membership is 50+. Younger people are encouraged through talks at the local primary school for year 3. Events are advertised through interviews on ABC local radio and in the Village News.

Similar to other historical societies a major challenge is to sustain volunteer interest. Gerard describes how the Society successfully works to promote a sense of belonging and connectedness. People come for the meetings and enjoy the fellowship of community. Another challenge is addressing succession and how best to transfer skills and knowledge to the next generation of office bearers.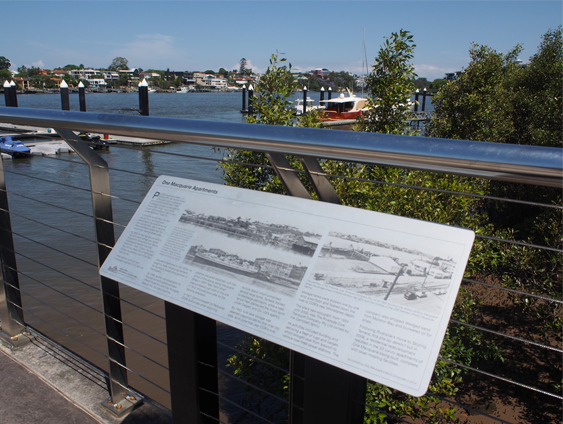 Image: Interpretative signage around the New Farm and Teneriffe area. Plaque produced by New Farm and Districts Historical Society on the site of One Macquarie Apartments.

Three very popular publications Reflections on New Farm, Tides of Teneriffe and Homes with History on the New Farm Peninsula have helped ensure that the Society has a healthy bank balance. Reflections on New Farm has sold over 4,000 copies. The books are available from the Society shop or from Mary Ryan bookshop in New Farm, New Farm Editions and the State Library Bookshop.

Several members of the Society meet every Thursday afternoon between 2pm - 4pm (Christmas holidays excluded) at the office and are available for members of the public to come in and search for historical information.

The Society holds public meetings at 2 pm on the 4th Saturday of each month (February to November) at the Merthyr Road Uniting Church Centre, 52 Merthyr Road, New Farm when guest presenters speak on a variety of topics that inform and inspire and are relevant to the history of the area or greater Brisbane.

Website: http://newfarmhistorical.org.au/
email: info@newfarmhistorical.org.au
telephone: 07 3254 1449
Sources: New Farm & Districts Historical Society Website and interview with member and editor Gerard Benjamin
NSW Premiers History Awards, Multimedia History Prize
The Amboyna Conspiracy Trial Website by Adam Clulow (Roy Rosenzweig Center for History and New Media)





The Amboyna Conspiracy Trial website is an interactive teaching resource focusing on one of the most famous legal cases of the early modern period. The project was awarded the NSW Premiers History Awards, Multimedia History Prize, 2017.

The Judges' Comments:
The Amboyna Conspiracy Trial website is an outstanding example of how maps, sketches, paintings and archival documents (in multiple languages) can be brought to life. It vividly and intelligently introduces us not only to the history surrounding the trial, but also to the tools of the historian in making sense of a trail of angry missives and public pamphlets. The Amboyna Conspiracy Trial is fresh, interesting and engaging. It is an important resource for teaching history and a model for multimedia history education.

read more here on the judges' comments or visit the Amboyna Conspiracy Trial website
Blue Shield Australia Symposium, Canberra
You are invited to join Blue Shield Australia members and supporters at the 2018 Blue Shield Australia Symposium to be held at the National Library of Australia, Canberra, Australia.

The symposium will be held over two days as follows:
Monday 29 January 2018—Tours, Workshops and Evening Welcome Reception
Tuesday 30 January 2018—Symposium with invited speakers

The purpose of the symposium is to share expertise, experiences and case studies of the protection of cultural heritage in times of natural disaster, as well as to discuss climate change and the strategies being put in place by the sector to work towards a sustainable future. The Australia, New Zealand, Asia and Pacific Regions are often affected by natural disasters and we look forward to learning from each other to advance the work of the International Committee of the Blue Shield to safeguard cultural assets for future generations.

For further information: http://blueshieldaustralia.org.au/symposium/
Public History Prize, NSW & ACT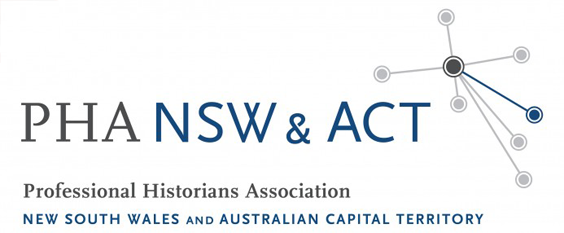 The Public History Prize is an annual award offered by the Professional Historians Association of NSW & ACT (PHA NSW & ACT).

The Public History Prize is open to students (undergraduate, graduate diploma, master studies) in NSW and the ACT whose work engages with the field and practice of professional and public history (both Australian and international). The nominated work must demonstrate competence in the use of primary source material, or be of demonstrated originality. Eligible entries must represent work substantially undertaken within the 12 months before the submission deadline.

Acceptable formats for the entry, are the following:
an essay of 3,000-6,000 words
documented evidence of an exhibition and an exegesis (1,000 words) explaining context, purpose etc
documented evidence of a website and an exegesis (1,000 words) explaining context, purpose etc
multi-media submission of any form and an exegesis (1,000 words) explaining context, purpose etc
The winning entry will demonstrate excellence in writing or other media, and the ability to use original source materials, or demonstrated originality of interpreting the past in a contextual way.

2017 Public History Prize entries close on 15 January 2018.

Further information http://www.phansw.org.au/pha-nsw-public-history-prize/
Digital Access to Collections Workshops
Need help with digitising and access to your collection ?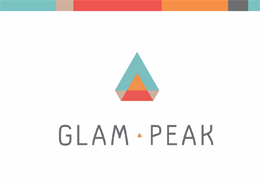 *Workshops planned for 2018 include:

Geelong:
Newcastle
Toowoomba
Port Adelaide
Perth
Cairns
Northern Territory
Broome
The two-day free workshop gives attendees the opportunity to participate in training focussed on digitisation and the provision of digital access to collections, Q&A's with leading technology providers and the chance to network with other GLAM organisations.
The workshops will provide information, training and advice for organisations at any stage of their digitisation process on their way to providing digital access to their collections.

(*The list will be updated with relevant information closer to event dates, and locations may be subject to change).

Further information: http://www.digitalcollections.org.au/about-us
Book, Unlocking Sound and Image Heritage
SOIMA: Unlocking Sound and Image Heritage - Countering audiovisual preservation challenges with creativity and community

This freely downloadable book offers tips and advice from dedicated professionals from all corners of the world, for the preservation and creative use of sound and image heritage. Featuring compelling case examples and strategies founded in evidence-based research.
SOIMA (Sound and Image Collections Conservation) is an international programme introduced by ICCROM aimed at building capacity for preservation of – and access to – sound and image collections held by museums, archives, libraries and a variety of other cultural institutions. The focus is on audiovisual collections residing in institutions that primarily care for non-audiovisual materials (libraries, museums, archives, cultural centers, etc.). The programme came as a response to UNESCO's 2005 call to safeguard the world's endangered audiovisual heritage.
Talk, Researching Family History through Objects, Sydney
RAHS/WEA - Annabella Boswell's Table: Researching Family History Through Objects

Wednesday 15 November 11am - 1pm
Presenter: Carolyn Williams
History House, 133 Macquarie Street, Sydney

Cost: Members $32 and Friends $35
Image: the table made an appearance on the Antiques Roadshow, Series 36 Episode 14 (2014), Exeter Cathedral 1. Image courtesy of John Moore.

Researching objects belonging to a family can give them greater meaning and significance but can also lead the researcher to investigate other histories (of technology and transport for instance) that are rarely considered in constructing family histories. Carolyn Williams will discuss this with reference to her research on 'Prince Charlie's Table', a table owned by the early colonial diarist, Annabella Boswell. Carolyn Williams is a retired university researcher from Western Sydney University who has recently taken up family history.

Click here to book online via the WEA website.
Talk, Exhibition and Performance, Melbourne
This Thread Is Strong: Talk, Exhibition and Performance
'... oh you can't possibly throw it all away, there's still time ... remember this was your Aunt's, your Grandmother's lace, you just can't let it go ... not yet ...'.

Stonnington History Centre
The role of Oral History in our society.

History Matters: This Thread Is Strong Talk
Maureen Hartley and Clare Larman discuss the role of oral history in our society and how items kindle memory , with particular reference to their forthcoming performances.
15 November, 10am - 11am. Book online or call 03 8290 1360.

Exhibition: Opening Maggie's Trunk
Neatly folded linen, carefully worked doilies and unworn silk nightdresses commonly made up a woman's trousseau in preparation for marriage. This exhibition explores duty, loss, strength, custodianship and the expectations surrounding women in the early twentieth century. Opening Maggie's Trunk reveals the contents of Maggie's trunk, along with the recorded stories (Community Conversations) from the local community telling of their precious item that can't be thrown away.
9 - 19 November. Thursdays - Saturdays, 12pm - 5pm,

Theatre : This Thread is Strong Performances
Opening an old trunk reveals an unused trousseau. Why, eighty years on, does Maggie's collection remain intact? An exploration of duty, expectations, loss, strength and custodianship.

Devised and performed by Clare Larman and Maureen Hartley. A Violet & Rose production.


Friday 17 November: 7.30pm, Saturday 18 November: 7.30pm, Sunday 19 November: 2pm. Tickets: $25 full, $18 concession.

Book now.


All events at the Northbrook Pop-up Gallery, 1257 High Street Malvern (at the rear of the Stonnington History Centre, behind Malvern Library).
2017 Separation Day Celebrations, QLD
The President and Members of The Royal Historical Society of Queensland invite you and your friends to attend the 2017 Separation Day Celebrations on the occasion of the separation of Queensland from New South Wales on the 10 December in 1859.

Special Guest Speaker: Emeritus Professor Kay Saunders OAM.
Where: The convict built Commissariat Store 115 William St, Brisbane City
When: Sunday 10 December, 4.00pm to 6.00pm
Cost: $45 (Members), $50 (Non-members)
Dress: Smart Casual

Bookings by 1st December

http://www.queenslandhistory.org/2017-separation-day-celebrations/
Oral History Workshops, WA


The Oral History Association is running a weekend of accredited oral history training on 18-19 November, 10am-4 pm.

The nationally accredited oral history training will be delivered over two days by Dr Elaine Rabbitt (PhD oral history) and WA Oral History President Doug Ayre.

Elaine has developed the oral history training package for AHCILM404 Record and document Community History, drawn from the wealth of oral history teaching materials that are available in Australia and overseas.

Too busy to treat yourself to a weekend of oral history – think again? This is a rare opportunity to immerse yourself in the practicalities of oral history and gain nationally recognised certification. This is a stepping stone for further learning and possible employment opportunities.

The two workshops are practical and hands on. Students will learn how to use professional recording equipment and they can bring their own recording devices.

Course Costs: $350 (No GST) for OHA members, concession card holders and students
$395 (No GST) for non-members & includes annual membership to OHA.

For register contact: Elaine Rabbitt – elaine.rabbitt@gme.com.au
Further information – http://www.ohaa-wa.com.au/news/
Windmills of Your Mind Exhibition, Brisbane
Photo: The Spring Hill Windmill, 1933, Queensland State Archive

The Spring Hill Windmill, built by convicts in 1828, is the oldest surviving building in Queensland.

An enduring presence in Brisbane's landscape, it has borne witness to the changing face of Brisbane and many tumultuous events in Queensland's past. Inspired by stories from the collection, students and others from Queensland College of Art have created works reflecting the windmill and historic events that took place around it.

Windmills of Your Mind exhibition is open until December 2017. at Queensland State Archives, 435 Compton Road, Runcorn.

9.00am to 4.30pm Monday to Friday, as well as the second Saturday of every month. Entry is free of charge.

Further information: https://www.qld.gov.au/recreation/arts/heritage/archives/whatson
Georgian Glass Exhibition at Old Government House, Parramatta


Georgian Glass Exhibition, Parramatta, The National Trust until 21st January 2018

Georgian Glass features a range of stunning glassware dating from 1700 – 1840, and includes wine glasses, ale glasses, rummer glasses, jugs, and serving ware. This beautiful collection of glass nicely rounds out the domestic collection at Old Government House, and allows us to bring a new level of interpretation to the house to demonstrate the style of colonial entertaining enjoyed by the Governors and society of the day. The collection will be incorporated into the rooms of Old Government House, and the tour will also highlight the architectural glass used in the House.

The highlights of the collection include a number of delicate air twist stem glasses, plus the oldest glass in the collection, a c1700 wine glass with a folded foot, and c1770 wine glass with white enamel decoration by William Beilby.

Tickets to Exhibition: $14 adult, $11 concession, $6 child, $28 Family, $11 groups pp, NT members free

Special event: Sunday 26th November 10.30am – 1.30pm.
Bring your glass items (antique or contemporary) to Old Government House to have them assessed by Antiques Dealer Michael Greene from Greene and Greene Antiques, Woollahra. Please note we cannot provide a formal valuation for items. Entry by donation – maximum 3 pieces per person will be assessed. Enquiries call 02 9635 8149

https://www.nationaltrust.org.au/event/georgian-glass/
Public Lecture, Talking History, SA
The History Trust of South Australia presents Elephants and Egotists

Tuesday 28 November

This free public lecture is part of History Trust of South Australia's Talking History series.
Patricia Sumerling presents November's Talking History lecture: Elephants and Egotists

Samorn, the Adelaide Zoo's last elephant, was adored by generations of zoo visitors. A gift from the Thai government in 1956, she was transferred thirty-five years later to Monarto Zoo to live out her days. When she died there in 1994 there was an outpouring of sadness from all who knew or grew up with her.

Elephants and Egotists is a tribute to Samorn, but also tells of other elephants sent to South Australia and the colourful characters who decided their fate. Elephants, particularly those in Southeast Asia, are now a critically endangered species needing our concern and immediate action. As Sir David Attenborough asks: The question is, are we happy to suppose that our grandchildren may never be able to see an elephant except in a picture book?

5.15pm for a 5.30pm start. Parking available on Torrens Parade Ground, off Victoria Drive. Light refreshments provided.
History Trust of South Australia, Torrens Parade Ground, Victoria Drive , Adelaide, SA 5000

Further information and to RSVP
Founders Festival Talk, Tasmania
Celebrating George Town and its heritage - In their own Words

Presented by George Town and District Historical Society, Northern Tasmania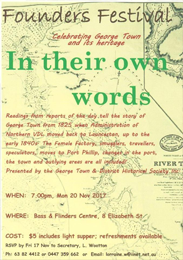 Readings from reports of the day tell the story of George Town from 1825 when the administration of Northern VDL moved back to Launceston, up to the early 1840s.

Stories of the Female Factory, smugglers, travellers, speculators, moves to Port Phillip, changes in the port, the town and outlying areas.

When: Monday 20th November, 7pm

Where: Bass & Flinders Centre, 8 Elizabeth St

Cost: $5 including light supper, refreshments available
The FAHS e-Bulletin, No. 171,
10th Nov 2017