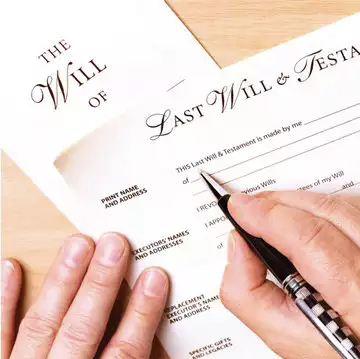 MAKE OUR HERITAGE PART OF YOUR LEGACY
FAHS is periodically asked by historical societies for advice regarding bequests. We understand the vital role that philanthropy plays in supporting the immediate objectives and financial future of volunteer community organisations, so we encourage all societies to communicate with members about the benefits of leaving a legacy in their will.
We also recommend that you build relationships with current and prospective donors to ascertain their intentions. Just as no two people are the same, no two legacies are the same, and building strong relationships with your members over time is key to successful philanthropic outcomes.
To assist you, we have prepared the following flyer template, with a suggested text to assist your members and supporters to leave a legacy in their Will. The flyer points to the options of an untied bequest or one for 'the development and preservation of the collection in all its forms'. These are guideline options, as bequests that are too restrictive in nature can cause problems for an organisation in the future. Note that there is a legal obligation to comply with the terms of any bequest accepted by an organisation. There is no legal obligation to accept bequests that are more onerous than beneficial.
You should feel free to use and adapt it for your own purposes. We recommend that it be presented in colour and include your Society logo and at least one good image.
FAHS wishes you the best in your Society's fundraising endeavours. We are proud to advocate and support the interests of community historical and heritage societies around Australia.
Don Garden OAM
President
WHAT A BEQUEST CAN DO – AN EXAMPLE
Mamie (Mary) O'Keeffe was an archivist, librarian, a passionate researcher on local history. She joined The Royal Historical Society of Queensland in 1963 and became the Honorary Librarian and a member of the Society's Council. She retired from that position at the AGM in 1977, and retired from her role as the John Oxley Librarian in 1979. Through her life she researched and published many texts on aspects of Queensland history, several of which were published in the Society's Journal. She remained a member of The Royal Historical Society of Queensland until her death. Prior to her death, O'Keeffe established an annually divested charitable trust to assist the valuable work of several Queensland institutions including The Royal Historical Society of Queensland. The Royal Historical Society of Queensland gratefully remembers Mamie O'Keefe's scholarly contributions and her ongoing financial generosity, which continues to support the preservation of Queensland history over two decades after her death.
The template starts here:
MAKE OUR HERITAGE PART OF YOUR LEGACY
You can contribute to the long-term collection, preservation and promotion of our local history and cultural heritage by remembering the ………………. Historical Society in your Will.
In doing so, you can make our local heritage part of your legacy to your community and family.
You will be supporting the nurturing and development of the Society for future generations of people who share your respect for our members and their work.
You may simply leave an untied bequest to the Society to maintain its diverse activities, or you may specify a purpose, such as 'for the development and preservation of the collection in all its forms'.
You may also indicate how you would like your name and contribution to be remembered.
There is no obligation to notify the Society that you are leaving a gift in your will, but we would be delighted to know so that we may ensure that your generosity is acknowledged in your lifetime.
The following wording may be used as a guide:
'I bequeath to [NAME OF SOCIETY, REGISTERED ADDRESS AND ABN]
EITHER
the residue or (percentage) % of the residue of my estate;
OR
the sum of $(amount); OR (specified items), in aid of the Society and for its general purposes.
The written acknowledgement of the Society is to be accepted by my executors as a full and complete discharge.'
Your solicitor can provide further assistance and advice, especially if you wish to add a Codicil rather than draw up a new Will.
[YOUR SOCIETY IS ENCOURAGED TO INSERT A PARAGRAPH OR ADD A SECOND PAGE IN WHICH ITS WORK, COLLECTION, MUSEUM, ETC ARE DESCRIBED AND PROMOTED. IT IS RECOMMENDED THAT LOCAL IMAGES BE INCLUDED.]